Shabbat shalom! And a big shoutout and tip of the kipah to JNR friends Sophie and Eric, who, no fooling, will tie the knot under a hoopah on this April Fool's day! Mazel Tov Sophie and Eric!
I might have said this once or twice before, but what a crazy f-ing week! Hard to wrap my addled brain around so much happening on so many fronts, but let's dive head first into the shallow end and deal with a certain orange turd that has left an indelible stain on our country's soul. I heard someone say the other day that in the last 30 years, there have been three major catastrophic self-imposed mistakes that are still damaging the country: The Iraq war, The Roe decision, and the election of you know who. Couldn't agree more. But the orange stain doesn't want to fade away, and unless the a-hole drops dead from eating too many cheeseburgers, his dark shadow will continue to be a gloomy, divisive presence on our collective psyche, as if someone had taken a black sharpie and scrawled "schmuck" on the country's forehead. Maybe it will fade away, but what an embarrassment in the meantime. And despite two impeachments, an insurrection, and now an indictment, the Republican party is still solidly behind him, and his polling and fund raising is only getting better. Makes me want to puke. I just did.
So, how do I feel about his indictment? Ugh. I would love to see him in an orange jump suit, cuffed, and doing a perp walk, followed by an indictment party, as Sandy has mentioned more than a few times. But, I have an awful feeling about opening this Trumpian box, even though I think he needs to be accountable for flaunting and breaking the law and for being a total a-hole. To paraphrase Dylan "even the president of the United States, Sometimes must have, To stand naked." Sorry for the Dylan reference, as the mental image of a naked Trump is a bit frightening, but you get my point.
For those of you old enough to remember, in 1987 there was a supreme court justice fight over the nomination by Ronald Reagan of Robert Bork to replace a moderate on the Supreme Court. Bork's nomination was fought hard by Democrats and an ugly liberal anti-Bork campaign, which ultimately led to the rejection of Bork and the travesty of a process we have now in confirming SJC nominees in which nominees do not answer any substantive questions to avoid being "borked". My point is, indicting the orange turd is the right thing to do, but it will fester in the vengeful minds of Republicans, who will use the precedent to indict Democratic Presidents for stupid stuff. And that brings me full circle: we wouldn't even be having this conversation but for one, narcissistic, horrible human being, so, the best outcome is still one that sees him drop dead from eating too many cheeseburgers. 
Speaking of beef, can we talk about the elephant in the dining room? There is a new manufactured meat on the market making headlines. Some marketing geniuses in Australia decided to use the DNA from a woolly mammoth to grow a giant meatball! No April Fool's joke! See the picture below, and tell me you wouldn't want to have that baby tucked between a crusty french bread and smothered with provolone cheese and marinara sauce! Looking for something new to serve at your Seder? Maybe add it to your (already cluttered with woke symbols) Seder plate to symbolize scientific progress? News of the mastodon meatball sent Sandy scurrying through our collection of children's books to unearth one of our kid's favorites, "Your Mother was a Neanderthal", by Jon Scieszka, which included a plucky woolly mammoth with an odd sense of humor that delighted our kids.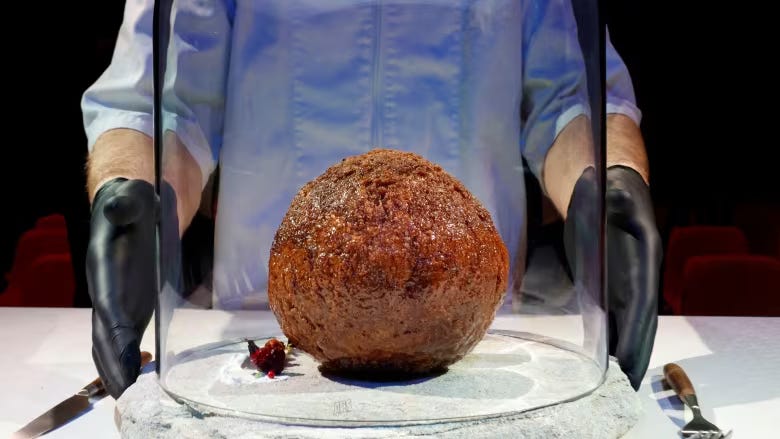 The other elephant in the room is yet another mass shooting and kids being killed. I still don't understand why the right thinks the price of freedom to buy military grade weapons is worth a single child's death, never mind being the leading cause of deaths among children in this gun loving land of the free. Why are we the only country with this problem? Easy access to guns. Period.
Pretty brutal news week. So, let's get to the good stuff. Freedom! Exodus! Plagues! Passover is in the air! I have been diligently de-crumbing the house, and will even wash the garage floor later today! Even more exciting than the garage floor….this is the first year that Govermans will outnumber Hirshs at the Seder table! Mom, Bill, Phyllis and Carrie are all coming to Sharon to break matzah and celebrate Passover. Life is Tov. But, what about some real news of the Jews you may be asking? What about Nut-and-Yahoo hitting the "Pause" button on gutting democracy, aka "judicial reform"? Well, ask, and you shall receive:
Dayenu!
I will be taking next week off to focus on family and holiday fun! I hope you all have a great Passover Seder! Chag sameach! And hey, let's remember to be careful out there!
Brad out.