Shabbat shalom! And happy Earth Day everyone!
Tip of the kipah this week to Rachel Carson, author of Silent Spring, a book she published in 1962 that helped inspire the environmental movement that ultimately led to the establishment of Earth Day, which we celebrate today. I am old enough to recall the early 70's when rivers would catch on fire from chemical dumping, DDT and pesticides were killing off entire bird populations, major oils spills were tarring the coasts, and the air was so thick with pollutants in some regions that kids were not allowed to go outside for recess. But, you can feel good about the progress we have made, thanks in some part to Carson's book, and the environmental movement it inspired, and Richard Nixon, who for all his faults was a leader in Environment legislation which led to the creation of the EPA. (Ironic that Republicans now lobby to neuter the EPA) The first Earth Day protest led to 20 million Americans marching in streets across the country, which was about 10% of the US population at that time, and would make it the largest protest march in US history.
Lately, Earth Day has taken on more of a marketing spin than a protest movement, as Corporate America has been steadily "greenwashing" the event. This was recently noted by Denis Hayes, the American environmental activist who coordinated the first Earth Day in 1970, denounced the "appalling" environmental messaging by oil, gas and other companies and said he hoped it did not distract attention from the threats posed by the climate crisis and biodiversity loss, which he compared to the threat of nuclear conflict during the cold war. "[Earth Day] is abused rather frequently. Of course, it's particularly upsetting to me when it's an event that I've had something to do with. I take some solace in the fact that I think relatively few people anywhere are motivated to accept the sentiment behind 'Earth Day at Exxon'. It just doesn't pass the giggle test," he said.
Other news this week was chock full of culture war stories ranging from abortion pills, more crazy gun violence, and Dylan Mulvaney, the queen of queens, who with the help of Tik Tok and her 10 million followers has set off a Bud Light tempest in a toxic beer mug. And then there is the real war stories, including the Russians bombing their own cities, and a civil war about to erupt in Sudan, the 3rd largest country in Africa. But the best news of the week was, of course, Fox finally bearing the cost for the barrage of bullshit they perpetuated on their bubbled tribe. More lawsuits are pending, and time will tell if this will change any of their lying and abhorrent behavior. But the shameless Fox a-holes also provided the best comedy of the week with this laugh-out-loud post-settlement statement which could be the most laughable line in journalism history: "We acknowledge the Court's rulings finding certain claims about Dominion to be false. This settlement reflects FOX's continued commitment to the highest journalistic standards." Jake Tapper, for one, had trouble holding back his laughter. And Fox's statement demonstrates a level of chutzpah that vaults it into "Schmuck of the Week" status, hands down. And of course the late night folks had a field day taking down the Fox schmucks: "Damn it! I want my trial!" Colbert said during his late show on CBS. "You were supposed to provide me with six weeks of delicious content. I wanted to see Rupert Murdoch put his hand on the Bible and burst into flames." Fallon was more forgiving on "The Tonight Show." "You could tell Fox was stressed about the trial because they spent the day chugging Bud Light." "It's so much money, they've already started selling ad space on Tucker Carlson's forehead," Corden quipped in his late-late show.
Over in Israel, despite the Knesset being on Passover/Spring break, the protests against Nut-and-Yahoo's judicial reform continued into their 16th week, with 150,000 taking to the streets despite two terror incidents in the previous 24 hours. That kind of courageous resolve is what gives me hope that the protests will prevail and the coalition will modify the current proposals, preventing Israel from becoming the next Hungary or Turkey.
This is a somber, reflective week in Israel, as they celebrate three holidays, Yom HaShoa (Holocaust Remembrance) and Yom HaZikaron (Memorial Day) leading up to a more happy and celebrated holiday, Yom Ha'atzmaut, Israel Independence Day. There is a saying in Israel that sums up this week quite poignantly: "Yom HaZikaron is the price we pay for having a country, and Yom HaShoa is the price we paid for not having one." Unfortunately, the divisive nature of Nut-and-Yahoo's coalition has soiled what is normally a somber memorial day recognition of those families that have paid the steep price of preserving the country's existence. Many of the bereaved families have expressed that the ministers from the administration do not attend the memorial day events as another form of protest against what they see as proposed laws that will diminish the country's democracy and values, values which their loved ones fought to defend.
But, what about some other Jewsy newsy? Here again, per usual, is your weekly buffet of carefully curated news for Jews from the likes of JTA, Times of Israel, The Forward, Kveller, Jewish Boston and other fine journals of Jewish information. Enjoy.
That's all folks! Enjoy the weekend, and remember, be careful out there!
Brad out.
PHOTO OF THE DAY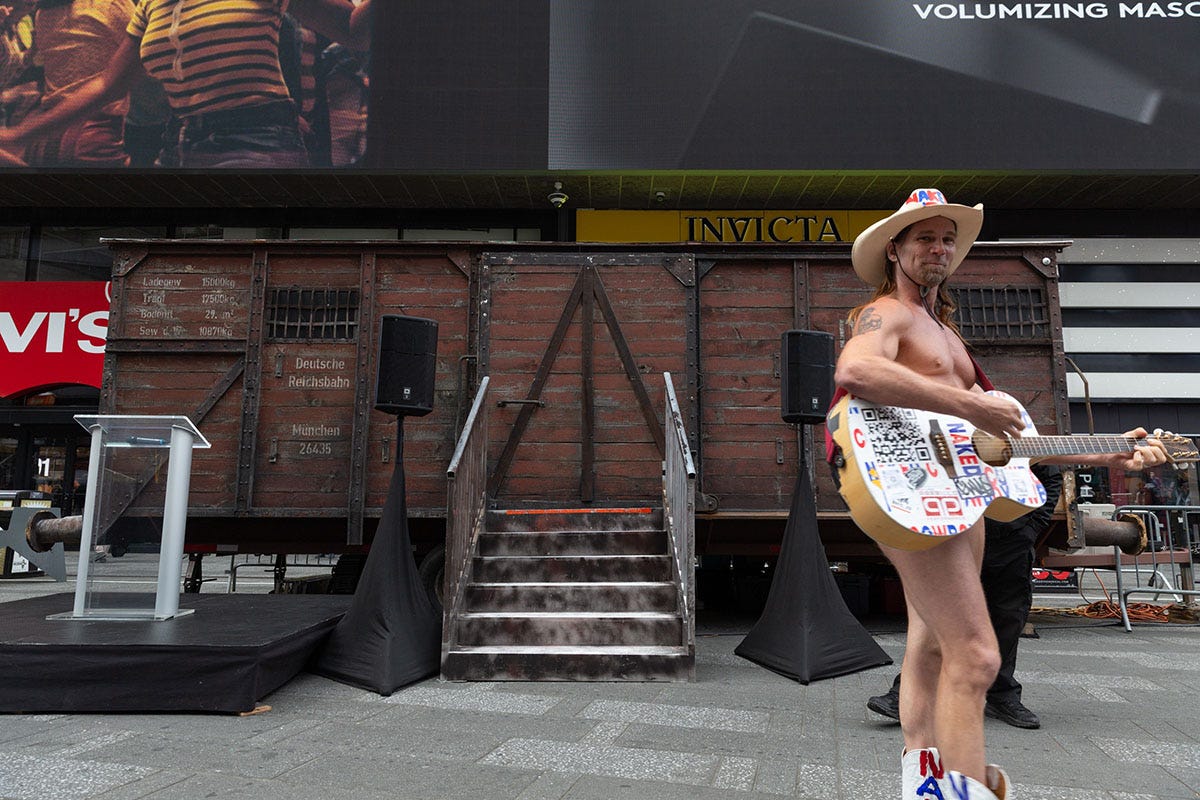 It was a surreal scene in Times Square on Tuesday when the tourist spot's famous Naked Cowboy stood in front of a recreation of a cattle car that was used to transport Jews to the concentration camps, placed there in commemoration of Holocaust Remembrance Day. "This is the crossroads of the world," said one of the organizers of the exhibit. "So if your goal is to increase awareness, this is the place you want to be." See more photos from the event ➤