Shabbat shalom!
Yesterday was Veterans Day, so a shout out to all the men and women, and their families, that serve or have served bravely in the defense of our country. The draft for the Vietnam War ended in 1973, the year before I turned 18, but I had already received my draft card and that year my number in the lottery was 009, which would have certainly sent me on my way. My sister was fairly active in the Vietnam Veterans Against the War group, and my parents were probably considering sending me to Canada, as they were clearly against the war as well. I don't know what I would have done, but I am glad I didn't have to make that horrible decision. And I consider all who served in that debacle of a war American heroes, despite the insanity and immorality of the conflict.
A second shout out this week to the American electorate, who went to the polls and rejected some of the crazies, and helped to restore some of my faith in democracy. I recall a meme/metaphor from one of my Substack reads this week which still sticks in my brain, and summarizes how I feel about the election results.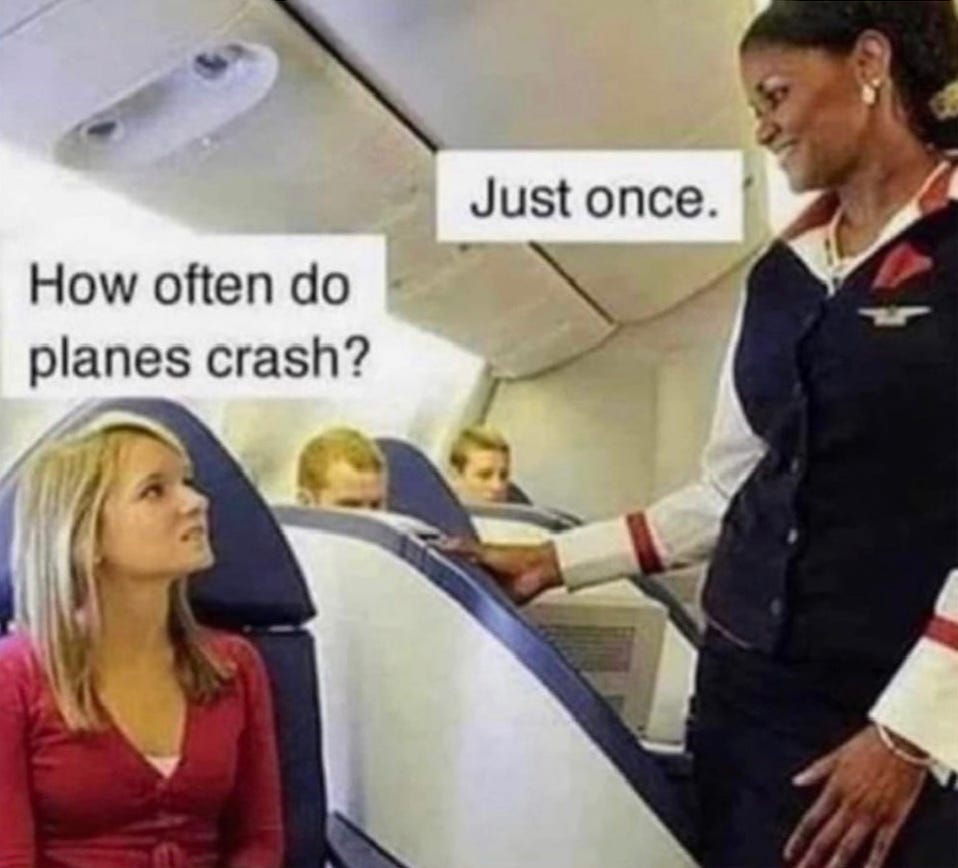 Just once. Well, the plane didn't crash this time around and fortunately, all the pundits and prognosticators got it wrong. The Red Wave turned into a pink puddle as the voters for the most part rejected the crazies and rallied around a women's right to control her own body. As of this Shabbat morning, it looks as though the Dems won't even need Georgia as Arizona already has been declared for Mark Kelly and in Nevada, it looks as though Cortez Masto will ultimately pass Laxalt and put another win in the D column. But there are gremlins on the wings of this plane and there is clearly more turbulence ahead. While the high-profile crazies mostly appear to have lost, some did win. J.D. Vance will be representing Ohio in the U.S. Senate. DeSantis cleaned up in Florida, even winning the Latino vote in Dade! More worryingly, as of Friday afternoon, the Washington Post was reporting that, "So far 173 Republican candidates who denied the 2020 election results have won their midterm race." And, as soon as next week, the Orange Turd is expected to announce that he's going to run for president again. That could shut down one engine on the plane completely while extremists in the courts could possibly shut down another. Hence, if there is not a fundamental reshaping of the Republican party, we could be crashing this plane in two years. Just once.
Watching and waiting on election results has been exhausting and stressful. So, let's move on to some news for the Jews! Without further ajieu then:
That's enough already! Hope you all have a great week, and remember, make good decisions and be careful out there.
Brad out.